Ref:
Date:
Location:
Photographer:
Ref:
Date:
Location:
Photographer:
WILLIAM PENN SPORTS CENTRE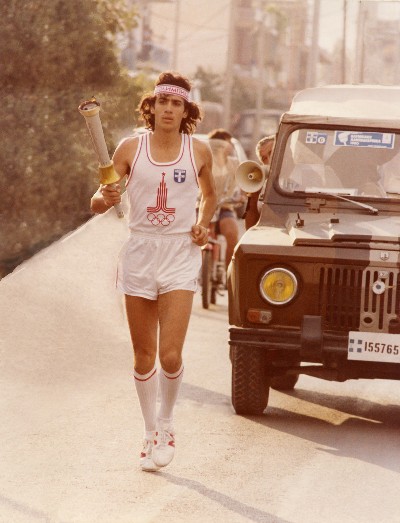 22/01/12
Former Olympic Torchbearer Athlete Stavros Kotsireas and member of the Panathinaikos Athletics Club for 17 years, competed regularly in 400m events at Greek Championship level.
In 1980 he was one of the Greek athletes selected as a Torchbearer of the Olympic flame for the Moscow Summer Games. The Moscow Olympics saw one of the most intense rivalries in Olympic history, between British athletics legends, Sebastian Coe and Steve Ovett. The games saw Ovett take gold in the 800m and Coe in the 1500m.
The Olympic torch relay begins with a sacred flame lit from the sun's rays at the Temple of Hera at Olympia. Following a relay through Greece, the Flame is handed over to the new Host City at a ceremony in the Panathinaikon stadium in Athens. The Flame is then delivered to the Host Country, where it is transferred from one Torchbearer to another, spreading the message of peace, unity and friendship. It ends its journey as the last Torchbearer lights the cauldron at the Olympic Games Opening Ceremony in the Olympic Stadium, marking the official start of the Games.
In the year of Moscow Games, Kotsireas also began a two year apprenticeship with the Oscar winning stage and costume designer, Vassilis Fotopolous; Fotopolous received an Oscar for the set and costume design for the film 'Zorba the Greek.' During his apprenticeship, Kotsireas assisted Fotopolous with set designs for productions at the Art Theatre Karolos Koun in Athens.
Sport had always played an important part in Kotsireas' life; however, fueled by his experiences with Fotopoulos, in 1984 he left Athens to pursue his other passion, art.
Arriving in The Netherlands, Kotsireas began six years of study at The Royal Academy of Fine Arts in The Hague. There he specialized in painting, drawing and graphic art, before going on to study for a Masters Degree in Set and Costume Design.
Since graduating, the artist has presented his work in 31 solo and over 60 group exhibitions worldwide and his work can be found in many private, public and corporate collections. In 2012 a new body of work will be on show at solo exhibitions at the Hellenic Foundation for Culture in Berlin and at the Rehorst Gallery in The Hague. The artist now lives and works in the United Kingdom.
The landscapes of Stavros Kotsireas
"Stavros Kotsireas zealously cultivates a form of landscape painting of romantic origin. 'The Landscape is an inner state,' this definition of romantic landscape painting suitably describes his paintings. Paintings charged with emotion, paintings emerging from memory and nostalgia, shivering paintings kindled by the flame of a poetic imagination."
Maria Lampraki-Plaka
Director of the National Gallery Greece
Professor History of Art